If you read our article on eco-design, you know how important the choice of materials is. For us, sustainability is therefore the primary characteristic of an "eco-responsible" product. And also one of our three pillars with ingenuity and design. Besides, you will notice that everything is intrinsically linked. At MeroMero, we believe that it takes ingenuity to design sustainable products.
But let's review the "sustainable" materials that we mainly use in our products.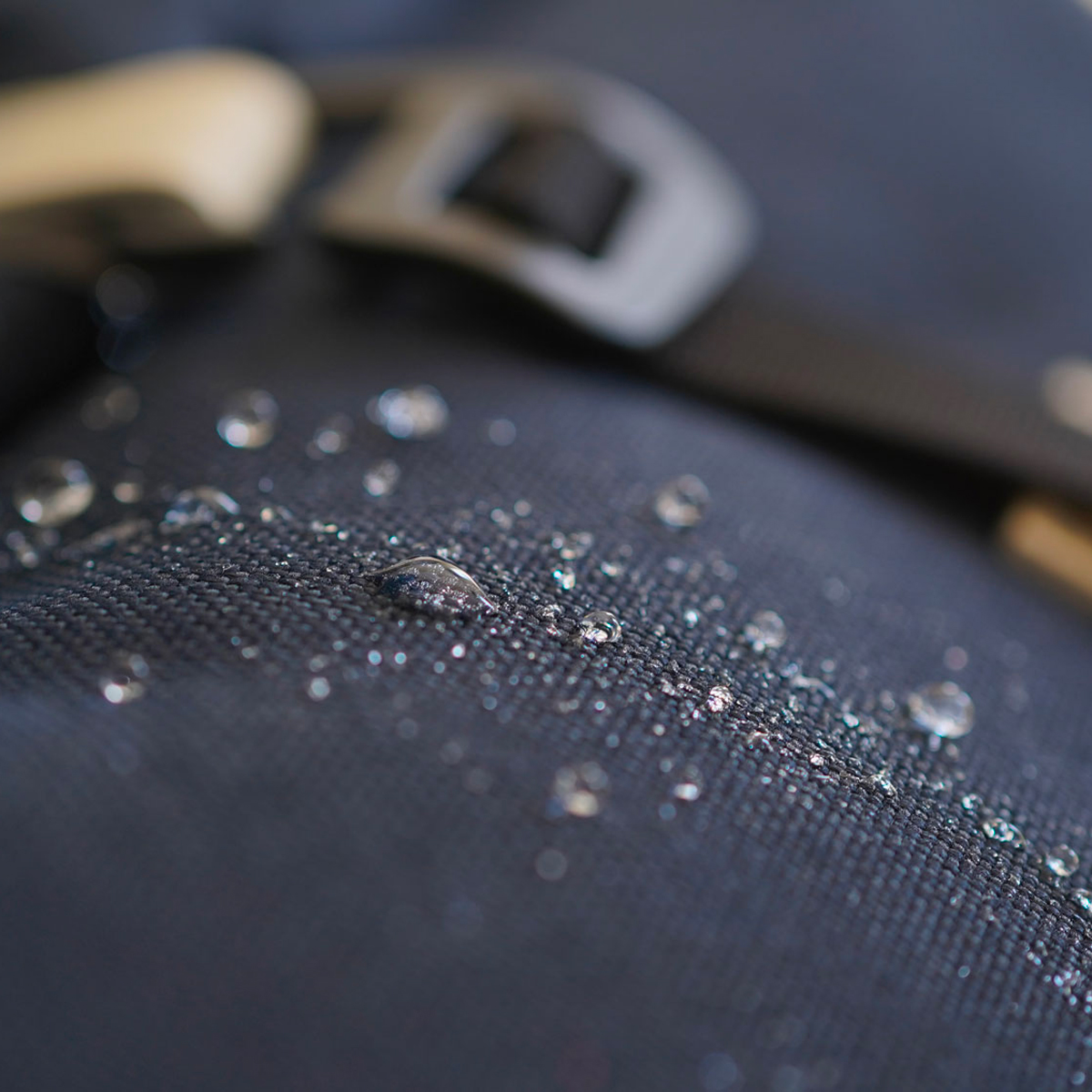 Our first bags were in "waxed cotton" because we like this material, its soft and robust side, cracked by wax and patinated by time. But cotton is still cotton, and it's not the strongest fiber out there.
So we went in search of the rare gem and we found it in South Korea with Leejo : a more solid fabric (nylon), with a "cotton canvas" look (1000D and a "soft" finish), in recycled fibers (from post-production waste, such as fabric scraps for example), waterproof (PU coating and water repellent finish without PFC) and the whole bluesign® certified. Basically, it looks like waxed cotton, but it's even more waterproof, much tougher, and so more durable. The 100% recycled fiber comes from Hyosung, a Korean supplier as well.
Regarding the inner lining (which is used in large quantities because it is part of almost all products) we used 50% recycled ripstop nylon (reinforced for more durability) until recently. But since a fabric can only be recycled if it consists of 100% of the same fiber, we have switched to 100% here too! And another little sneak peak: we will soon also be working with a printed inner lining.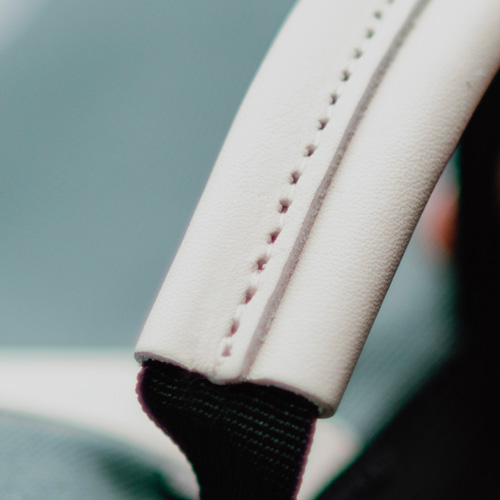 For our straps and zippers, we use a thick leather (2mm), vegetable tanned leather (no chromium or phthalates). It comes from the tannery ISA Tan Tec, one of the most "eco-responsible" on the market (traceability of skins, vegetable tanning, green electricity, wastewater treatment, OekoTex® certifications …). It is located next to our factory in Vietnam. They also have tanneries in China, the USA, and Italy that are all 14.001 certified. The Saigon factory (the one we work with) is also a member of the Sustainable Apparel Coalition and uses the Higg Index to measure its social and environmental impact.
They therefore supply the biggest "eco-responsible" brands on the market. If you have time, go see the website, it provides a lot of information and explains their concept and impact with full transparency.
So no, our products are not "vegan". In fact, despite the trend and demand from certain consumers, we preferred a natural material (leather), produced in an "eco-responsible" way. Rather than a less solid "faux leather" with an impact and a sometimes worse balance than some "real" leathers. Afterwards, there are new "eco-responsible faux leather" (based on pineapple pulp for example), but we have not succeeded in finding a finish and a solidity equivalent to the nubuck leather that we currently use. To see what innovation in this area has in store for us.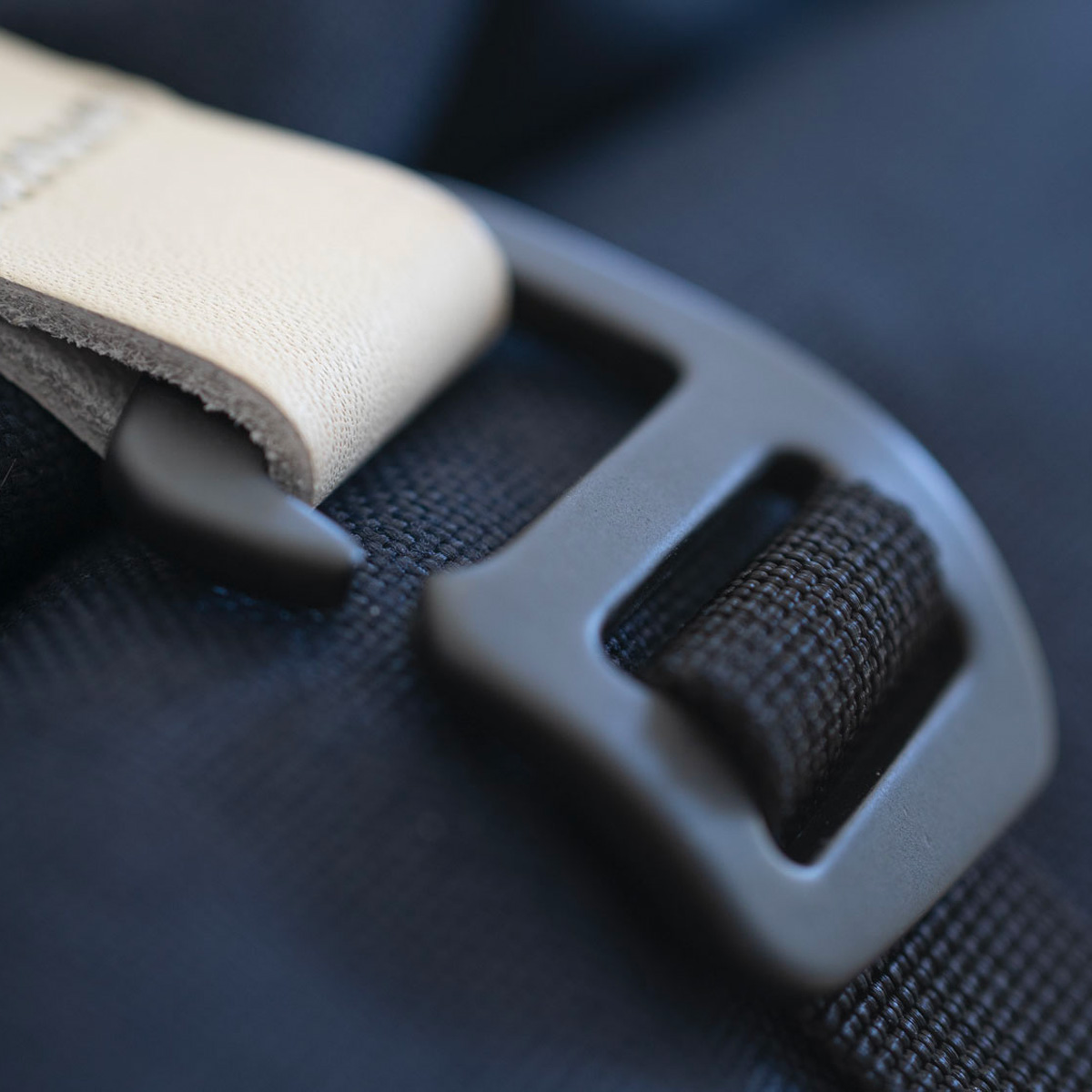 The Clem & Léon safety buckles, "hooks" and carabiners are in matt brushed aluminum to combine look and maximum strength. In addition, aluminum is perfectly recyclable. We select loops mainly at Trimmers, a reputable Vietnamese supplier located less than 2 hours from our factory. Moreover, for the record, the hooks of the bag were already on the first version "made in Europe", the only elements of the bag that we had not managed to find in Europe!
We also work with the German supplier Fidlock who specializes in magnetic closures and buckles. They supply the market's biggest brands and also have a factory in Asia to be closer to their customers' factories.
Due to cost, we cannot use aluminum buckles everywhere. So for simpler buckles, we use plastic from specialist suppliers for the outdoor market such as Duraflex or Wojin. The next step will be to use recycled plastic, but order minimums are still beyond our reach.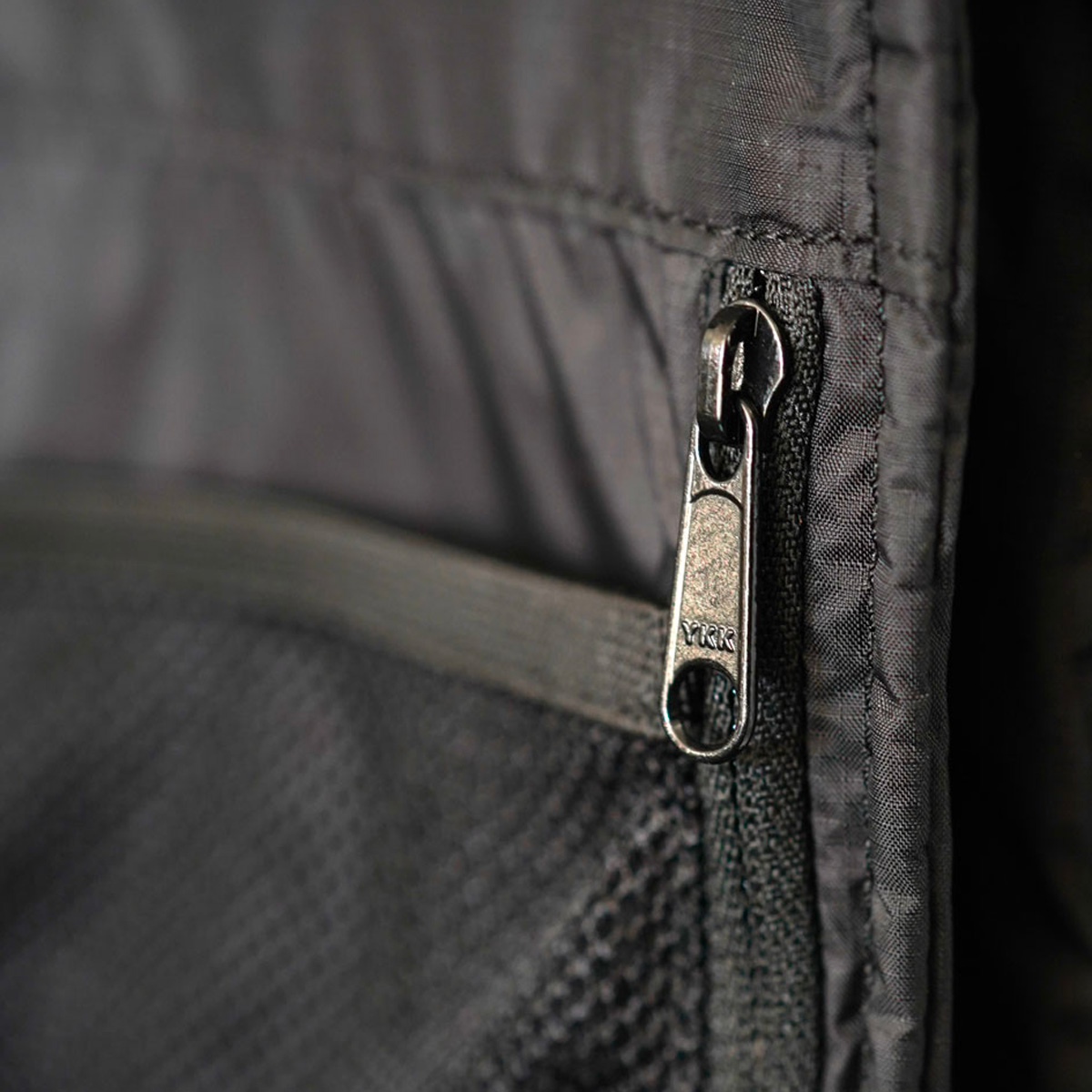 While France has its own home-grown zipper brand, Eclair, , we made a conscious choice to work with the best, YKK .
YKK is a Japanese company with a world presence and factories in Europe, the USA, and Asia, including Vietnam, not far from our factory in Ho Chi Minh City. All their factories meet ISO 9001, ISO 14001, ISO / TS 16949 standards, OEKO-TEX® STANDARD 100, and are bluesign® system certified.
We use YKK zippers on all our bags and accessories. It's expensive, but extremely durable. OekoTex cotton eco-friendly materials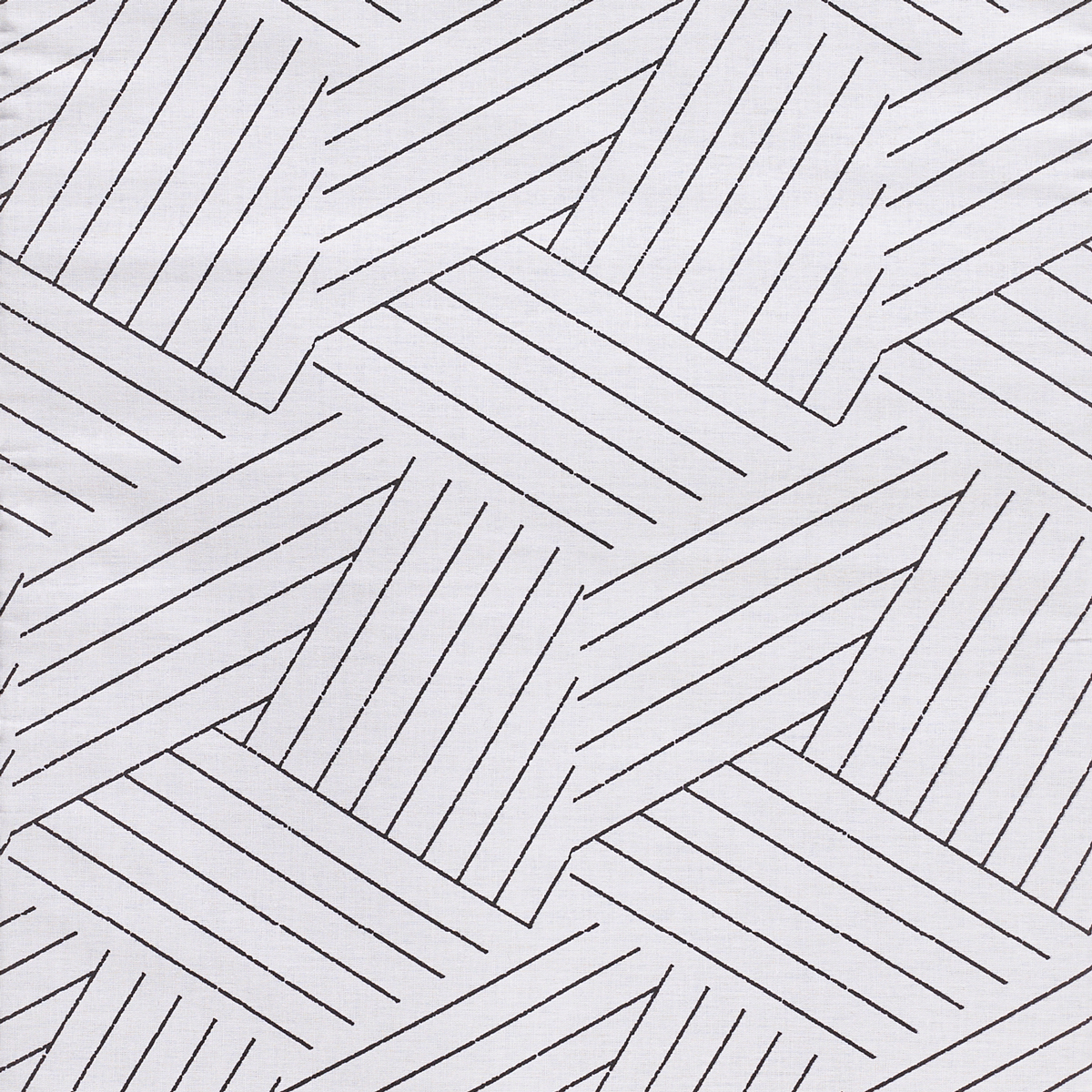 For our accessories and tote bag (inside the Clem & Léon Bag), we choose to use cotton. We obviously wanted to use GOTS certified organic cotton, but it was just too expensive. Besides, upon further investigation, it was not as great an idea as it initially looked. Cotton, even when organic, is often grown in Pakistan, woven in Bangladesh, and then printed in China or in the USA (for higher quality). In short, when we were looking for a cotton supplier, we decided to work with Domotex, a French supplier who grows, weaves, and dyes their cotton in Turkey. They offer high quality thick cottons (120gr), which all meet Oeko-Tex Standard 100. Their inventory is in France and they offer small quantities that allow us to purchase only what we need.
We worked with them when we manufactured in Europe, and since our eyes at the time were bigger than our stomachs, we had a lot of rolls left. We decided to send the rest to Vietnam to be reused. So we will have the same pattern as long as we still have inventory! Afterwards, we will try to find an Asian supplier located as close as possible to our factory. The objective will be to use GOTS certified cotton, or even a 100% recycled polyester that we will be able to print with our own design! To be continued.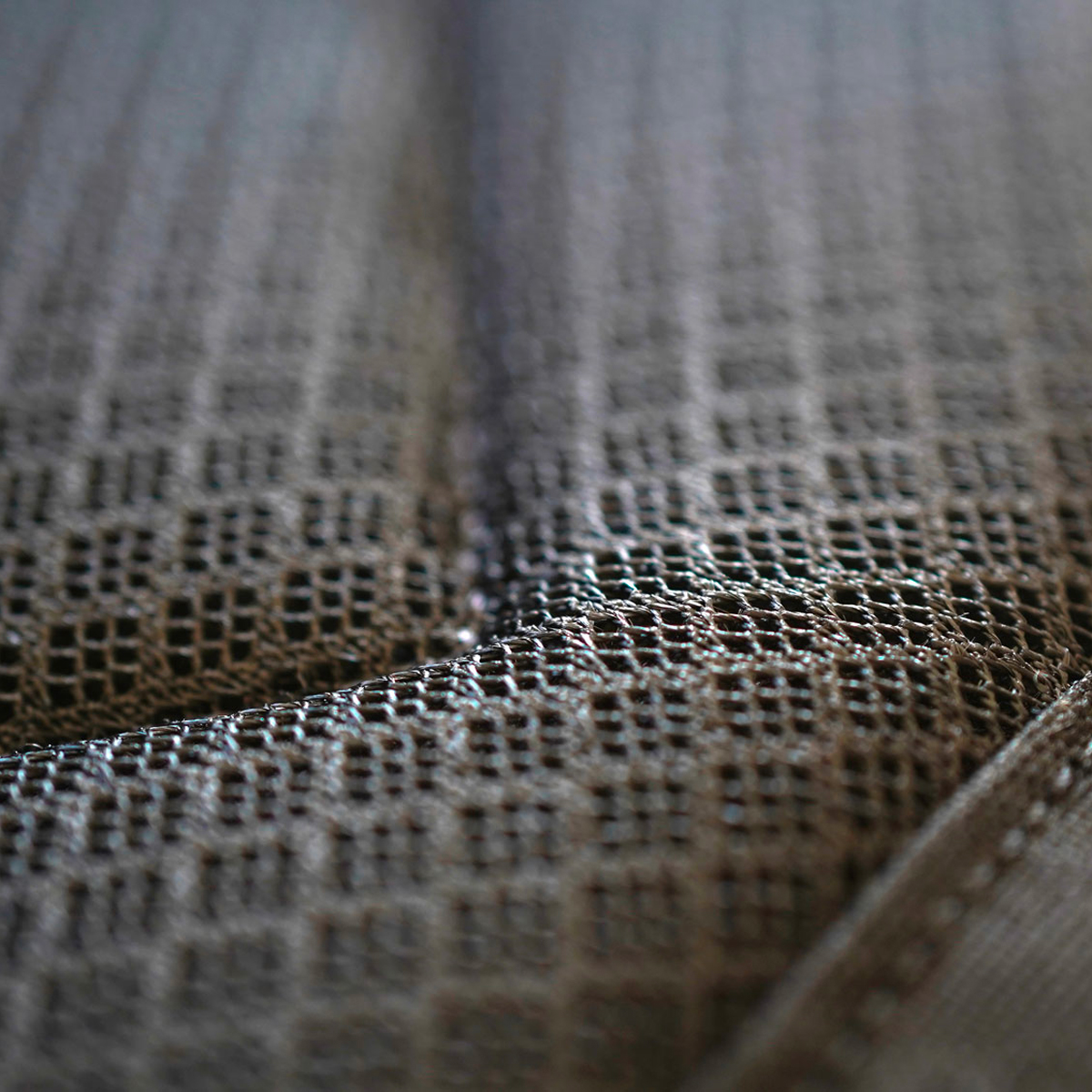 The mesh used for the back panels and shoulder straps is a "3D" mesh. In other words thicker for comfort, but also to let air pass. It's not the most ventilated back panel on the market, but our "3D mesh" construction is very strong and breathable enough for urban adventures or a short hike.
For some pockets we use other types of mesh, including a very elastic "power mesh". Nylon (polyamide) is both durable and lightweight. However, we have yet to find recycled nylon mesh. As is often the case, we do not reach the minimum order requirements imposed by most suppliers, quantities that are often mind-blowing. We don't want to manufacture, buy and store 3000 m (3km!) of fabric when we only need a few hundred meters.
On the other hand, we try to optimize supply by using the same mesh for several products.
For our baby carrier (link to the product) we chose a 100% recycled polyester fabric certified OekoTex 100. It is ultra thin, soft to the touch and less "noisy" than nylon. We found it at J & B (not the whiskey, the Taiwanese textile supplier), who specializes in outdoor, snowboarding, surfing, and lifestyle products.
In addition, for our first series, we chose to use a color that they already had in stock from a customer who had simply ordered too much. We didn't pay less for it, but at least we avoided having to produce a new batch by reusing and adding value to existing inventory in a warehouse. The color is not necessarily what we would have chosen, but it still looks good.
For the soft parts, we opted for a 100% recycled polyester micro-fleece. Both soft and durable. The famous "made from plastic bottles" in addition…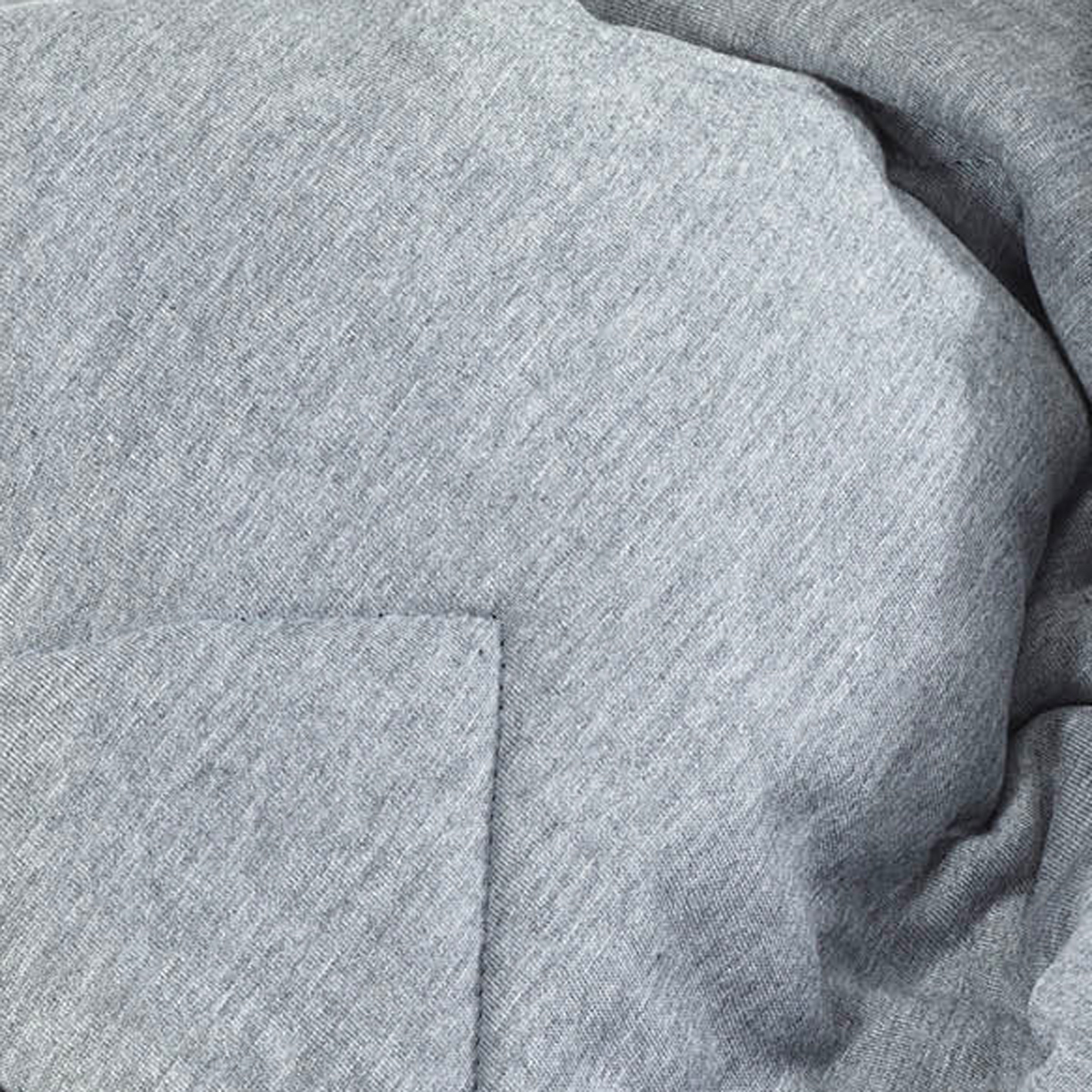 When we need a "stitch" (a knitting what), we prefer to use Tencel (Lyocell) than cotton, even organic. Because this fiber is super interesting. First of all for its technical characteristics: it is ultra-soft, breathable, very resistant, hypoallergenic and therefore anti-bacterial. Tencel dries very quickly and does not wrinkle. Almost the opposite of cotton! Even if it has the advantage of being extracted and spun in its natural state, cotton is a hollow fiber (therefore retains water, therefore perspiration) and also a short fiber (therefore more fragile, therefore less durable. ).
Tencel is part of the family of artificial fibers. This means that it was created artificially from cellulose (eucalyptus wood pulp or pulp from other deciduous trees grown in sustainably managed forests). So artificial but biodegradable, since when all is said and done it is still wood! For the equivalent growing surface area, Tencel produces ten times more thread than cotton. It hardly needs water (so rain is enough) and no chemicals are needed other than a non-toxic solvent. Unlike viscose, the manufacturing process is almost a closed loop: 97% of the solvents are reused and all water used in the process is recycled.
The mat pad for Paquier Pouch, is made with Tencel and PU coated to stay waterproof against leaks.