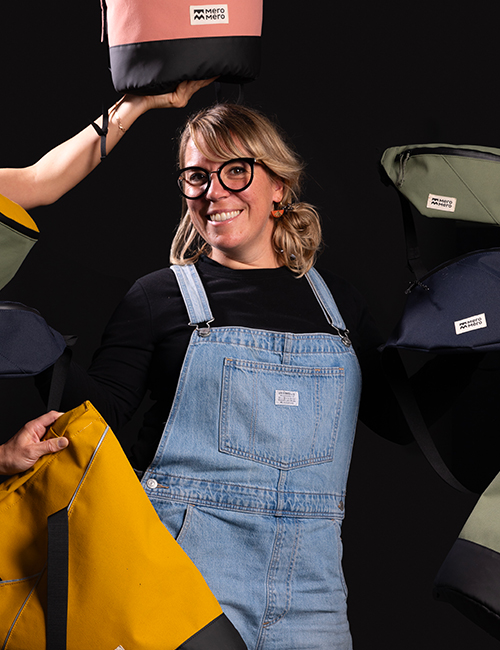 HELENE.
Founder and CEO of MeroMero. She invents, designs, and develops all our products, manages production (and all its hassles), takes care of sales, improvises photo shoots, films and edits our tutorials, looks for investors, and much more. In another life, Hélène used to work at Patagonia (European marketing dept). She was also a press coordinator, a web consultant, a freelance writer and even a ski teacher! She loves to spending time in the mountains, especially skiing, cycling. She has a real passion for art and backpacks. She's a mother of two little boys.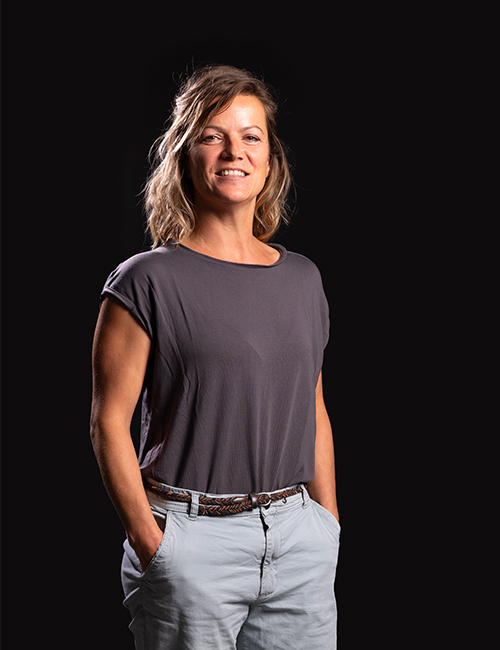 SUSI.
Global strategy, marketing and events… She only takes care of the cool stuff at MeroMero, but also the German speaking markets. She leaves Munich for Friborg "to get closer to the ocean" and also to Annecy where she lived before having her two boys. Susi was a product manager at Patagonia Europe (where she met Hélène) and then at Oakley. Passionate about snowboarding, surfing and vanlife, she dreams of telecommuting from the beach five days a week.
QUENTIN.
The geek of the gang (you always need one). He takes care of the website, the online store, the beugs and reminding us not to put too heavy photos on the site, "otherwise it struggles". Passionate about technology watch (normal), he also loves sport (former skier) and travel. He met Hélène in a coworking for startups while he was also setting up his company of smart objects. No children yet and is in no hurry to have any!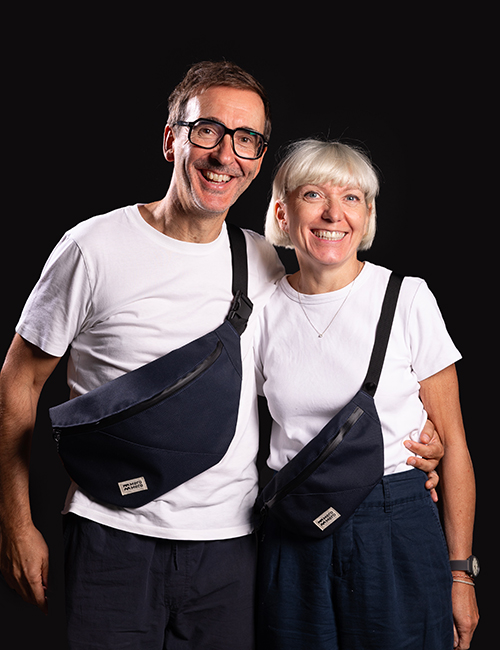 DELPHINE & FABRICE.
The two (not secret) agents of MeroMero! Their mission is simple: to develop sales in France. But not just any old way… These Parisians, fashion enthusiasts and exiles in Bordeaux, have specialized in the distribution of brands "which have meaning and which offer a real eco-responsible approach". So they set up the agency One To One Paris and distribute, for example, the beautiful brand from Berlin Ucon Acrobatics… as well as MeroMero!
If you are in France and would like to sell our products, please feel free to contact Delphine and Fabrice at contact@onetooneparis.com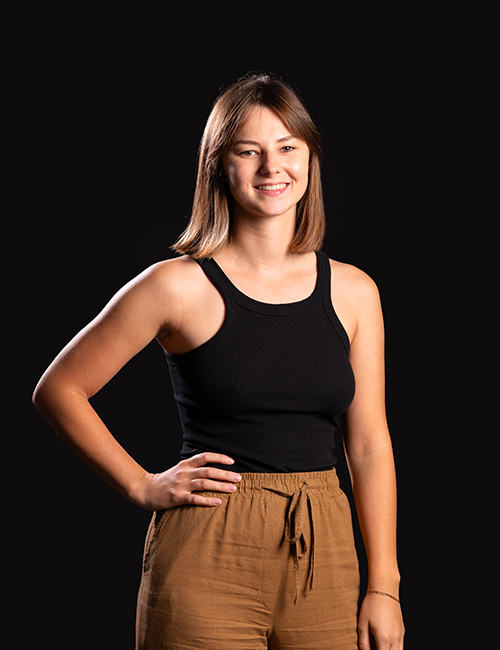 MARIIA.
Our long-term "trainee", who alternates between her MBA in marketing, communication and digital and her "job" at MeroMero (even if she prefers international trade fairs to her digital strategy courses ;-). Passionate about fashion and polyglot, Mariia was born and raised in Kyiv, before leaving to study and work in Poland, Sweden and then Italy. In love and confined, she moved to Haute-Savoie where she learned French (perfectly) and now discovers the joys of the mountains… but always with great style!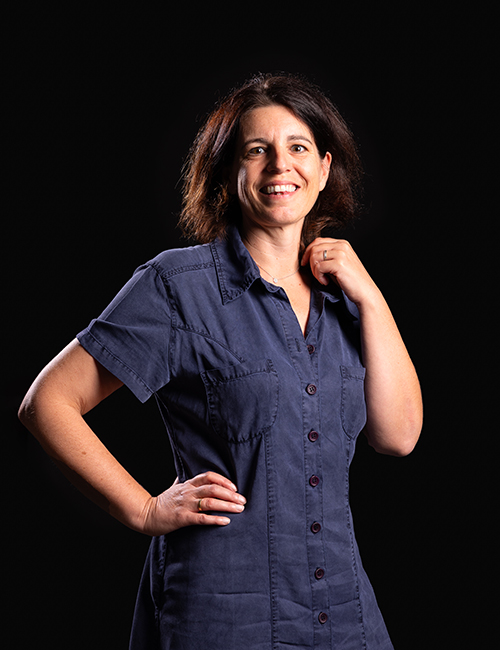 DAPHNÉ.
Much more than a sales assistant, she is Hélène's "administrative and accounting" right hand. It is therefore Daphné who is responsible for the pre-orders, makes the restocking, edits the customer invoices and registers those of the suppliers, declares the VAT, reconciles the bank accounts with the accounting, prepares the documents to transmit everything, in time, to the accountant! An indispensable and precious aid to help the team on a daily basis.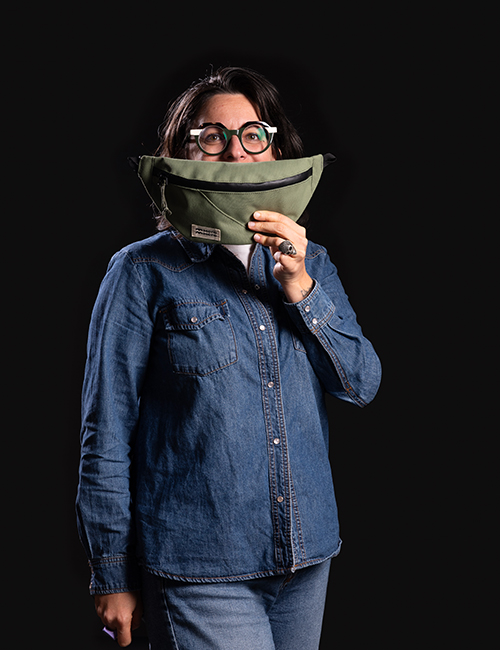 ALEKS.
Aleks (with a K) is "quiet strength", the queen of organization, the master of sewing. Costume designer, stylist, pattern maker and super organized… Aleks joined the team to support us in the products development and in optimizing all processes (after-sales service, production, general organization, etc.). She met Hélène at Millet/Eider in 2014. And as she had a skull ring, big "Klein blue" glasses and a 1968 Volkswagen T3 Fastback, Hélène immediately knew that this rock'n'roll colleague would become a friend.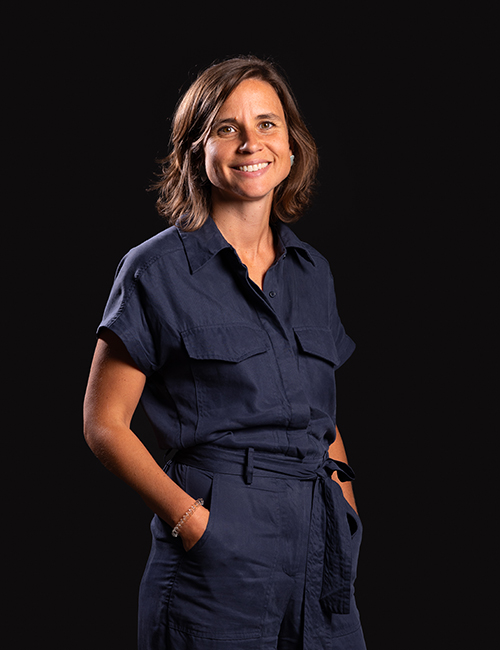 CLAIRE.
Graphic designer and art director, Claire is now helping the team in communications. Photoshoots organization, editing, graphics and even model… so many topics that she managed to remove from Hélène's todolist (and it was not easy)! Already in 2012, Hélène asked Claire to work with her at Patagonia Europe. Since then, Claire has co-founded the clothing brand Les Hirondelles with which we shared the office and showroom. And for the record, Claire is none other than the creator of the MeroMero logo!