When we send products to our dealers (shops), we use old boxes as much as possible (those used to ship our products from Vietnam, but also those from other brands – when they consent).
However, sending online orders (through our website or marketplaces) proves more complicated. One, we need a specific size (to fit just one a bag). Two, you would probably prefer to receive your €135 bag in something other than a beat-up cardboard box with another brand's logo…
So we decided to use new boxes (or plastic envelopes for accessories) to ship your orders. And even then, our logistics center took the initiative to replace all plastic tape with kraft tape. In an perfect world, everyone would reuse these boxes after receiving a package, but in the end, most people recycle (like for Vinted shipments) or even just throw them away (for those who are too lazy to go to the recycling center…).
We then heard about RePack, reusable envelopes that can be returned by mail, the idea seemed great: 80% less CO2, no waste, and getting consumers involved in the sustainability process, since it is the consumer who has to drop off the envelope at the nearest mailbox.
However, in the end, we found very little information, especially regarding the logistics center(s) for reconditioning the envelopes. We heard Eastern European countries mentioned at one point, but it was never very clear or transparent. So for our shipments in France (90% of our online revenues), it didn't seem reasonable to have send the packaging back over such a long distance.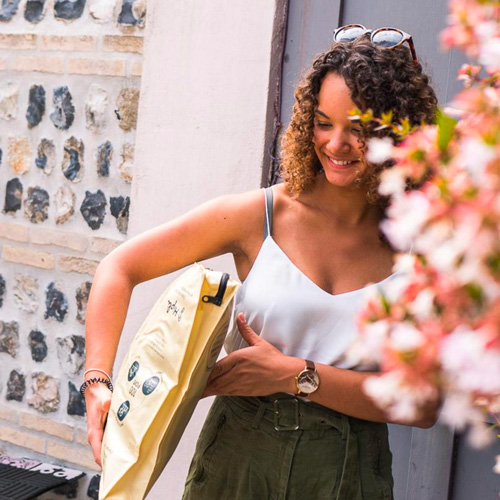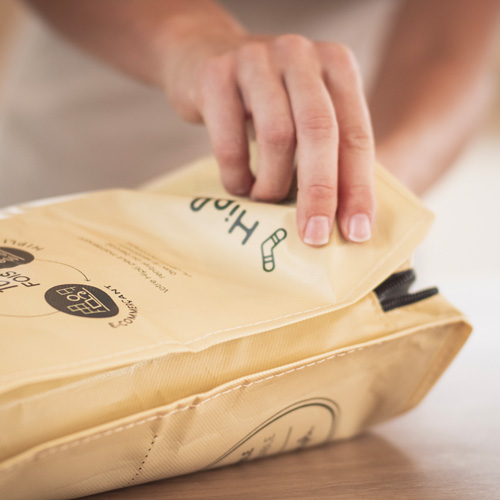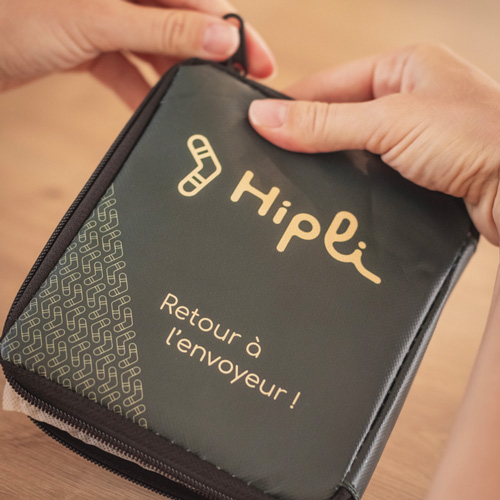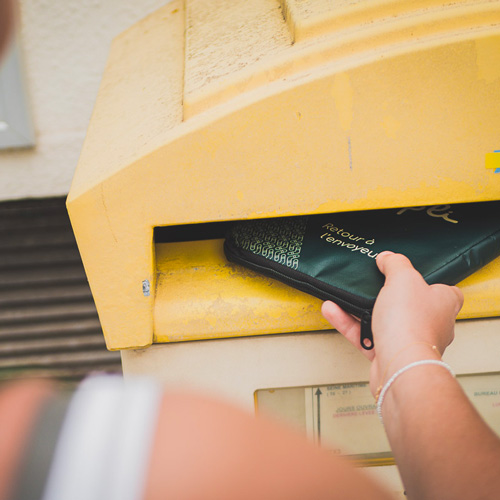 We then heard about the French startup Hipli. The same concept of reusable packaging, but this time located in… France! In addition, we found their approach very transparent. The first series of envelopes were made in China, but the next batch will be made in Europe. Their logistics center(where the envelopes get a makeover after each return) is located in Le Havre in Normandy. Take a look at their site, there is plenty of info, especially on their page"we designed a package ".
In addition, they went all out, taking the time to carefully analyze the potential and make sure that their concept was a good idea. The complete life cycle analysis of their product is available on their website. For example, they realized that it was better to use Polypropylene, which is stronger than recycled PET. This is why Hipli packages can be reused a hundred times compared to "only" twenty for RePack (made from recycled PET). In addition, at the end of its life, the Polypropylene will also be recycled in France.
The one small drawback: for the time being Hipli only offers three sizes, and our Squamish backpack has a hard time fitting into their size L envelope. We anxiously await the release of a size XL!
However, logically, and as soon as our export volumes increase enough, we will also use the RePack solution for all shipments in Germany, the Benelux, and Scandinavian countries. Or those identical solutions we find in each country.
This concept only works if we all start. And especially if the recipient plays along with the return of the envelope. Even with a loss rate for the customer (i.e. if you throw them in the trash instead of sending them back) of 62-64% (depending on the format), these envelopes have a smaller ecological footprint than a cardboard box.
On the cost side, we will not hide it from you, you have to pay the price. We buy them between € 1.70 and € 1.99 each (depending on the size). And again, Hipli have just signed a partnership with La Poste to lower costs. This price takes into account the manufacture of the envelope (amortized for a hundred uses), the RFID chip to trace the rotations, the return postage (empty) to the logistics center, repackaging, storage… This model economy therefore only works if the envelope is returned and reused.
Real child's play. Hipli, like RePack, have planned everything to facilitate the return of envelopes and thus minimize the rate of "losses". To do this, simply follow the instructions, fold the envelope and drop it in any post office box. You don't have to pay anything, you just need to move!
On the other hand, to be sure of your involvement, we decided to ask you for a very small contribution of 1 € to help us in this process. To begin with, we give you the choice when ordering. But it may be that over time, the reusable package will become systematic. But for that, we still have to convince our logistician to use this kind of package. For the moment, orders that leave in Hipli packages are prepared (by our little hands) from our office in Annecy, and sent by DPD predict or Colissimo.